Summary
Chinese bond foreign holdings fell a record $17.7 billion in March after losing $12.7 billion in February.
LNG prices will rise later in April, heavily influenced by the pandemic.
China has become one of the largest LNG producers.
The Bank of China has kept the medium-term lending rate at 3.70% per annum. The five-year rate, which is at 4.60% annually, has not changed either.
Even if we see falls in China's and Asian economies, it will only mean a good moment for investment.
China has become one of the largest LNG producers.
Chinese bond foreign holdings fell a record $17.7 billion in March after losing $12.7 billion in February. The descending is likely due to Russia liquidating its yuan holdings.
After the end of the COVID, we will see a good time for investing, but that does not mean that now is not the best time to invest, it says just the opposite. There will likely be no further sales as the ruble has recovered and the Central Bank's foreign exchange reserves have stabilized, and then we will see the upbeat track. But we don't know how long the pandemic will last, so it's worth keeping an eye on the market.
But there are some more problems in China's economy. Most important is COVID.
Amid COVID, China's economic activity dropped sharply in April, according to a survey of sales managers. The Sales Manager's Index fell to 49.2, a 22-month low, from 51.8 in March. SMI surveys sales managers in both the manufacturing and service sector.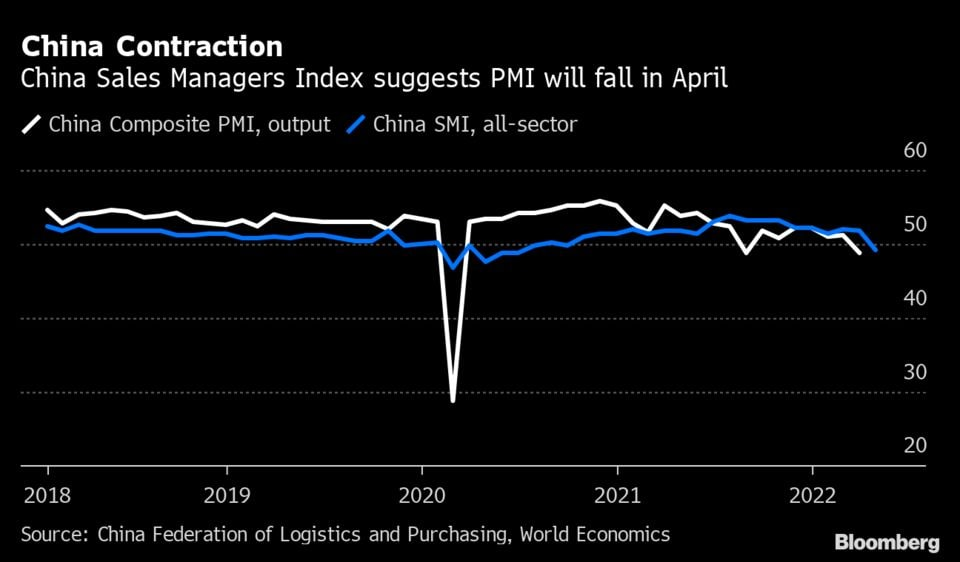 The official and private surveys of manufacturing activity and services for April are due later this month.
«Seems like all areas of economic activity have been affected», — the London-based data provider said in a report, adding that about 49% of companies surveyed said they were affected by lockdowns.
Also, it's interesting to see the business confidence index, which correctly represents the current situation and forecast. Business confidence reduced in April, with the index measuring all sectors falling to 50.6 from 53.5 in March, the lowest level since February 2020.
LNG imports to China in the first quarter of 2022 also fell by 14% compared to the same period last year. Importers refuse to import LNG due to a vast increase in prices (the graph shows that the price per ton of LNG reached 8 thousand yuan, or about $1,300) and the closure of plants in regions where coronavirus lockdowns have been imposed.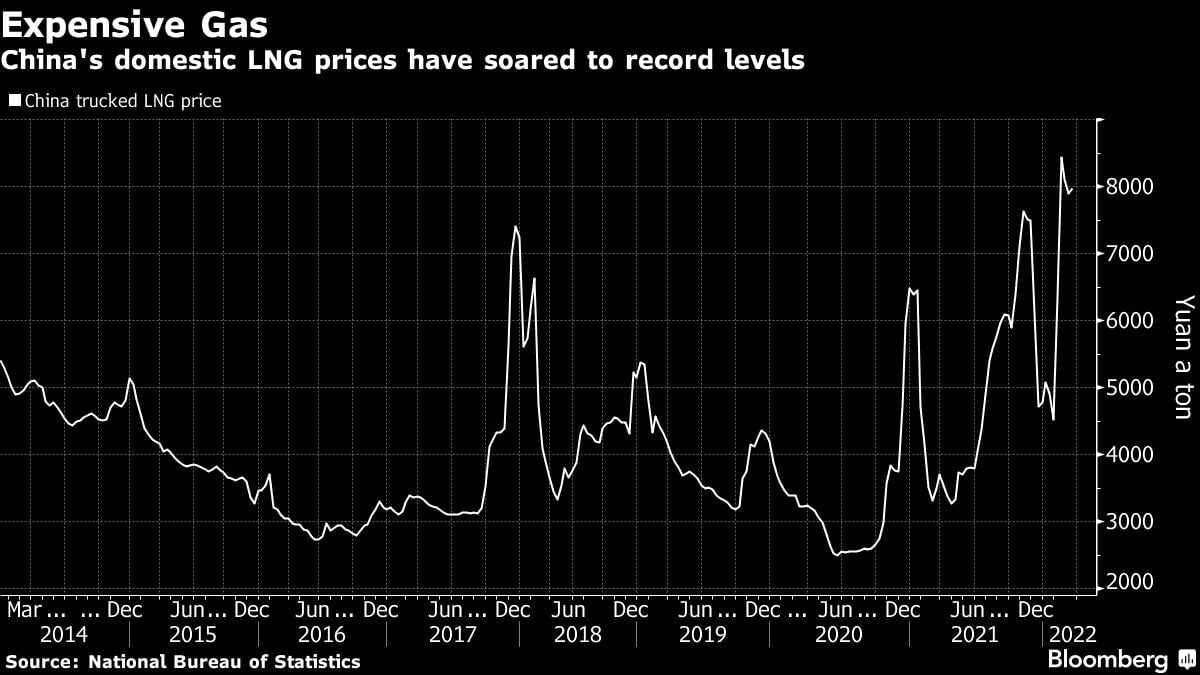 Since the beginning of the COVID-19 pandemic, China has maintained a strict "COVID Zero" policy, leading to hard lockdowns whenever the number of cases starts to rise, which isn't good for the economy, but it is a necessary measure for now.
So we expect that LNG prices will rise later in April and part of may, heavily influenced by the pandemic.
The country has been experiencing one of the worst COVID outbreaks since 2019. And it may affect the economy and cause import/export delays. These measures have impacted China's economy, especially its supply chain and logistics operations. The Shanghai port system, through which about 1/5 of all containers of Chinese export goods pass, is currently experiencing significant delays in unloading/shipping due to the lockdowns.
By the end of March, as lockdowns continued to tighten, shipping activity had dropped nearly 30% from pre-COVID levels. And while activity has picked up lately, it remains well below recent average shipment volumes.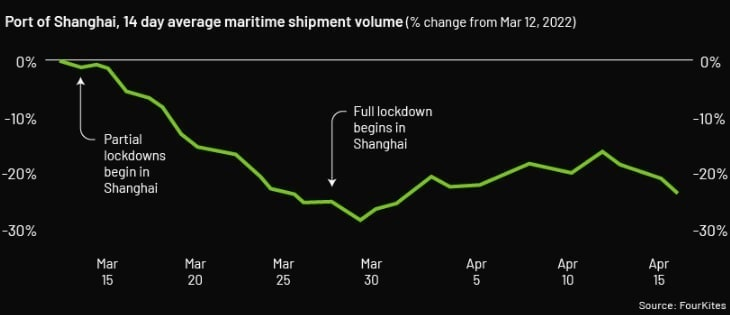 As of April 19, 2022, more than 470 ships were still waiting to unload goods brought to China. The number of container ships waiting in line outside Chinese ports is 195% higher today than in February. Since the lockdown, the waiting time at sea terminals in Shanghai has increased by almost 75%. Due to delays at the Shanghai terminal, ships are sent to the neighboring ports of Ningbo and Yangshan, but these ports are also starting to be overloaded.
So it's another reason why China's economy will fall while struggling against COVID. As we can see, the COVID does not allow the economy to recover.
But there are good things that should make the economy "brighter".
China has become one of the largest LNG producers.
What entails the sale of surplus produced LNG must be done as soon as possible, as ports can be closed at any time due to a pandemic. But, China does not produce LNG domestically for export, so companies are trying to resell the cargo to new buyers in Asia. Firms have the opportunity to unload / ship batches of super-cooled fuel. And we can see an increase in gas prices in Asia. Now the price is almost $30 per cubic meter of natural gas. This also contributes to a decrease in domestic demand.
And Iron ore, a key economic barometer, fell sharply on Monday as news of mass testing of people in the Chinese capital area scared the market. Perhaps lockdown concerns will continue to increase the number of deliveries and shipments in neighboring ports.
In the Banking sector as well we can see some changes.
The Bank of China has kept the medium-term lending rate at 3.70% per annum. The five-year rate, which is at 4.60% annually, has not changed either.
There were some opinions on the market that the regulator could soften its policy, but now it prefers to provide additional liquidity to the system. The rates on medium-term lending facility loans have remained unchanged for some time now.
At the same time, the required reserve ratio for banks was reduced by 25 bp a few days ago – up to 8.1%. Traditionally, most new and outstanding loans in China are based on an annual mid-term lending rate, while the five-year rate affects mortgage pricing. And we can observe that China's yield advantage over Treasuries has disappeared for the first time since 2010, paving the way for even more capital outflows from the Asian nation.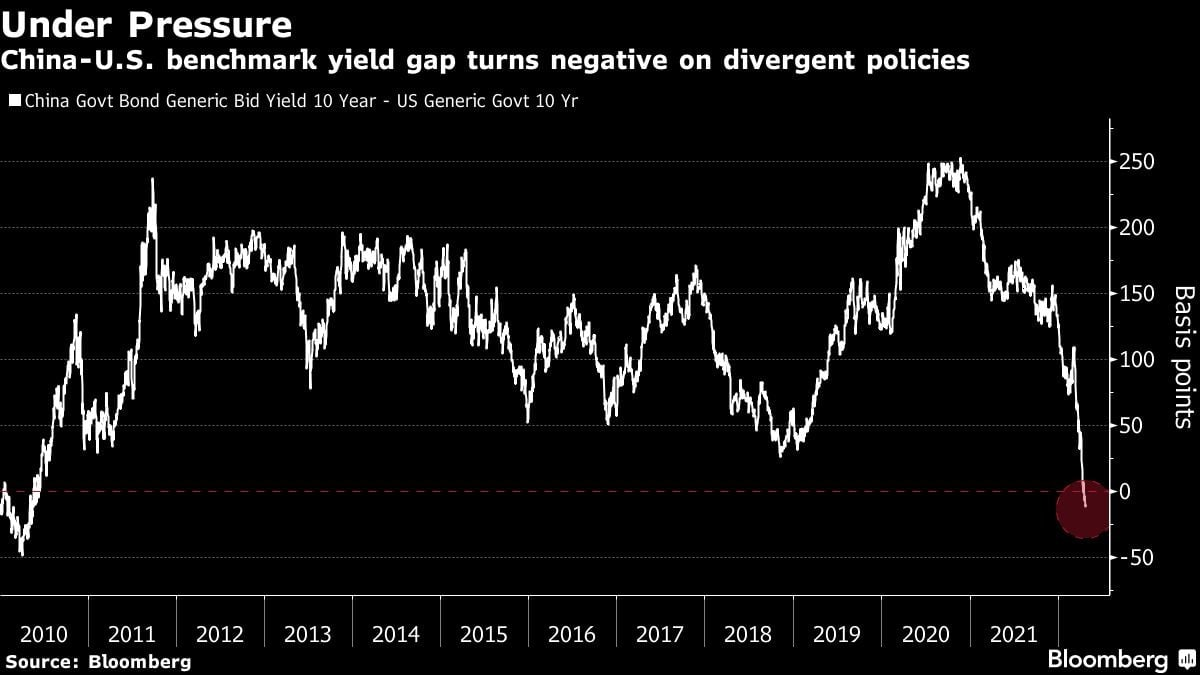 If inflationary risks continue to appear in the US, then most likely, in the short term, US yields will be higher than on Chinese government bonds.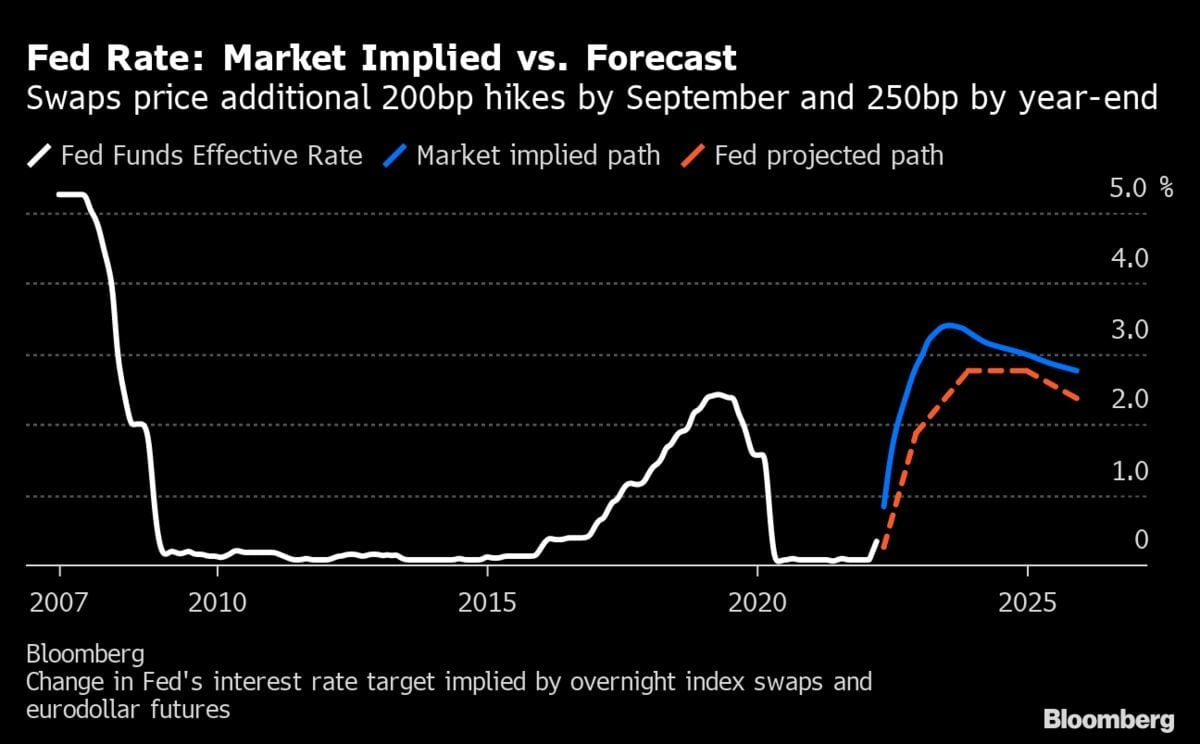 Global funds have already sold almost 90 billion yuan ($14 billion) of China's sovereign debt in the past two months as the premium disappeared. Inflation in Asia is also starting to pick up when China's economic slowdown increases pressure on regional growth.
Thus, the region faces the threat of stagflation, with growth rates lower than previously expected and inflation higher, the IMF said.
The US Fed hikes also matter in China's economy. The expected sustained hike in interest rates by the US Federal Reserve is also a challenge for Asian countries, given the region's substantial dollar-denominated debt.
According to forecasts, the Asian economy is expected to grow by 4.9% this year, which is 0.5% lower than the previous forecast made in January. Inflation in Asia is expected to reach 3.4% in 2022, 1% higher than forecast in January. And, of course, we can't say that it is good for the economy.
Summing up whether there will be COVID or not, the Chinese and Asian economies will grow strongly; even if we see falls, it will only mean a good moment for investment.
We see that the COVID in Shanghai is decisive in the rise or fall of the economy in China and the Asian and European markets. The longer the COVID restrictions continue, the more the supply problem and, consequently, the economic downturn will worsen.
After COVID restrictions are lifted, we expect the Chinese economy and Asian markets to proliferate. Precisely the explosive growth, because many ships are on standby at the port and at the first opportunity all trade will recover very quickly. Also, China will be able to sell some of its LPG.
If COVID restrictions are not removed soon, then we will see ships redirected to neighboring ports, but the efficiency of this will fall dramatically. Also, the stability of the economy and the supply chain will be in question, and we will see a drop, but not a strong one. But after the fall, there will be growth. But the economy will not be allowed to fall that much, and it is worth considering that the level of medicine is high enough and the possible supply of vaccines has not been canceled.